PRIVACY WOOD FENCE
Practical functions:
Privacy wood fencing provides security, defines boundaries, protects property, and helps control noise, wind and sunlight.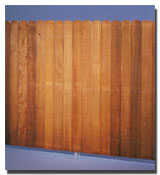 Decorative functions:
Master-Halco versatile wood fencing lets you choose from a variety of styles to find just the right one to transform your yard into an attractive,yet secure, retreat. The style and decorative touches of a fencing system can enhance the look of your property and character by becoming an integral part of your landscape. The construction of your fence may also reflect the architectural style of your home.
Your local area will determine which species of wood are readily available. The primary species or groups of wood used in privacy fencing are listed below.
Species